Client: Total System Integrator
Software Design Company – Oakland, CA. USA
Total System Integrator is a software company located in the bay area Oakland. Custom development with various forms of software, software technology, distribution, software product development.
Opportunity:
In the year 2005, there are no touch screen mobile phones or the Square (found in 2009) company yet, touch screen Kiosk was the latest innovation hardware. Many POS systems in the market were very old-style DOS-looking pieces of software, and all of them were sold as separate software from the inventory management software. Small businesses, liquor store owners were still using like below very old typewriter-like POS systems or very wabbly screen with all random hardware that pull together to perform each function. The end result is either you have a very ancient-looking desk to sell your products, or a very clutter full of random hardware desktop.
My Process:
With years of experience in retail stores and supermarkets, I was the project lead working with a team of overseas software developers to design a user-friendly from selling products, inventory management, and employee management. Working with partner IBM to consolidate innovative and durable hardware to build custom to work with our software. Including receipt printing, product scanning, online database backup, automatic inventory ordering, inventory management, cash drawer, sales analytics, employee management, CRM and customer loyalty, multi-store management. Below is easy to use backend POS system created to work with the same hardware configurations as the POS system.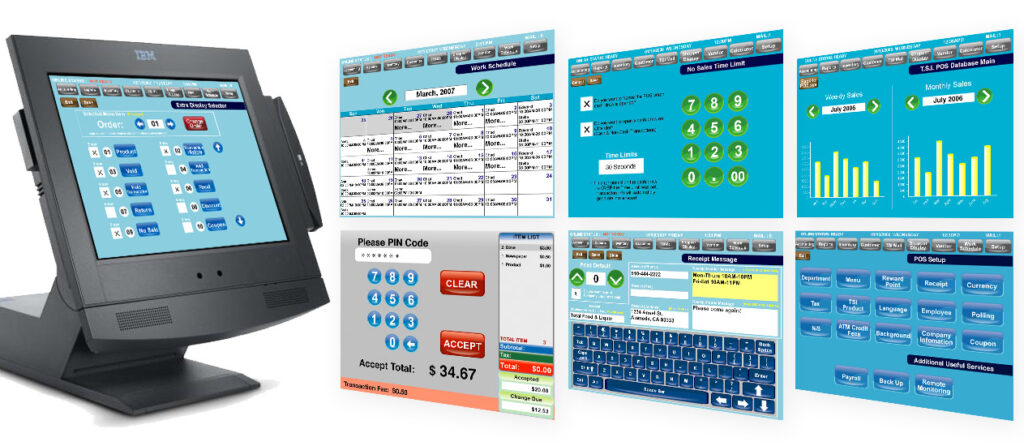 Solution & Result:
Successfully deployed into many supermarkets and liquor stores in the bay area, providing reliable tech support, on-site customer training, events.